About Us
FLY ABOVE AND BEYOND!
SOUTHWESTERN BC's PREMIER MOUNTAIN FLYING COMPANY
We've been flying around the rugged BC Coastal Mountain Range since 1974, so we know a thing or two about mountain flying! As the original air tour company in the area, Glacier Air enjoys a long standing history of pioneering the mountain flying experience in the Sea-to-Sky region, from Vancouver to Whistler and beyond. We have a solid reputation for offering exceptional flight experiences in a relaxed yet safe and professional environment.
And don't forget to ask about our Personalized Glacier Air Gift Certificates. They are a unique gift for thrill seekers of all ages and enable the recipient the flexibility to fly at their leisure.
For Sea-To-Sky locals, flying with Glacier Air is a treat and provides you an opportunity to view the natural wonderland in your own backyard from a unique perspective, plus it's a great way to show off to your guests. You simply have to experience this!
FAQs
WHERE DO TOURS DEPART?
All air tours depart from the Squamish Municipal Airport located one hour drive north of Vancouver, BC, and 35 minutes south of Whistler, BC. Pick up from other airports are uncommon, but may be arranged for an additional charge.
HOW DO I GET TO SQUAMISH?
The easiest way to get to the Squamish Airport is to drive yourself. If you don't have a car, Greyhound offers scheduled bus service from Vancouver and Whistler. Glacier Air can arrange to pick you up at the Squamish bus depot if required. Glacier Air does not provide ground transportation to/from Vancouver or Whistler!
ARE SMALL AIRPLANES SAFE?
General aviation aircraft are well built and maintained on a strict schedule and high standard. When aircraft are properly maintained and flown by competent pilots, flying is one of the safest forms of transportation. The majority of general aviation accidents are due to pilot error, not mechanical or structural failure. Our certified pilots know when and where to fly.
WILL I GET SICK?
In general the majority of passengers do not get sick when flying in small aircraft. However, if you are prone to motion sickness then you may want to consider taking Gravol at least 30 minutes prior to your flight. Most people are so enchanted by the scenery that they soon forget about feeling sick! Please note that Glacier Air is not authorized to provide any form of motion sickness medication.
WHAT SHOULD I BRING?
You should bring a camera with spare batteries and clear memory card, sun glasses and a jacket. Parents should provide something for small children to chew on during the flight to help equalize their ears during climbs and descents. Please note Samsung Galaxy Note 7 are not permitted on flights as per Transport Canada Regulations.
WHAT SHOULD I WEAR?
Anytime you travel in an aircraft you should wear appropriate clothing for the season and closed toe footwear. Flip-flops and tank tops won't keep you warm at 6000 feet above sea level! Hiking boots or runners and a good quality jacket are recommended. Layer your clothing so you can easily remove layers in order to remain comfortable. If you experience an unexpected delay on the ground, you'll be glad you dressed appropriately.
WHAT IS A GLACIER?
A glacier is a large, slow moving river of ice, formed from compacted layers of snow that slowly deforms and flows in response to gravity. Glacier ice is the largest reservoir of fresh water on Earth, and second only to oceans as the largest reservoir of total water. Alpine glaciers form in mountain valleys and are sometimes referred to as valley glaciers. Larger glaciers can cover an entire mountain, mountain chain or even a volcano; this type is known as an ice cap. Ice caps feed outlet glaciers, tongues of ice that extend into valleys below, far from the margins of those larger ice masses. Outlet glaciers are formed by the movement of ice from a polar ice cap, or an ice cap from mountainous regions, to the sea. More Information
FLEET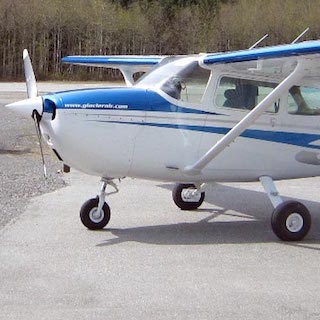 CESSNA 172
The Cessna 172 is undoubtedly the world's most popular airplane with over 42,500 planes produced. This is a great aircraft for flight training and tours for up to three passengers.
Horsepower: 160
Top Speed: 122 knots
Average Cruise Speed: 110 knots
Stall Speed: 44 knots
Total Seats: 4
Gross Weight: 2,300 lbs
Useful Load: 860 lbs
Fuel Capacity: 42 gal
Range: 435 nm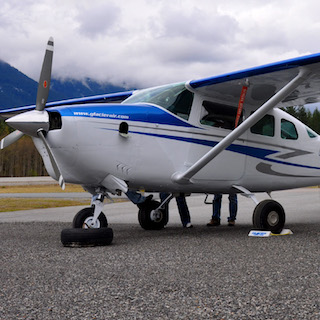 CESSNA 206
Considered one of the "workhorses" of the air, the Cessna 206 offers an extended range and seating capacity over the Cessna 172. With its cargo door setup, the 206 is a favourite of tour operators worldwide. Glacier Air's 206 is also equipped with an entertainment system that adds just the right touch to your mountain flying experience.
Horsepower: 300
Top Speed: 180 knots
Average Cruise Speed: 130 knots
Stall Speed: 54 knots
Total Seats: 6
Gross Weight: 3,600 lbs
Useful Load: 1,600 lbs
Fuel Capacity: 88 gal
Range: 605 nm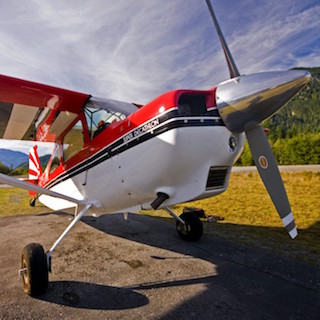 SUPER DECATHLON
This popular aerobatic tail wheel trainer is not only enjoyable to look at, but fun to fly! Whether you want to master a wheel landing, fly straight and level from point A to point B or loop, roll, spin and fly inverted, this little aircraft can do it all!
Horsepower: 180
Top Speed: 174 knots
Average Cruise Speed: 140 knots
Stall Speed: 46 knots
Total Seats: 2
Gross Weight: 1,800 lbs
Useful Load: 415 lbs
Fuel Capacity: 40 gal
Max. Inverted Flight: 2 minutes